The 4th of February was the best day in my life. On this day we laughed too much and we were very tired too. On the third of February teacher warned us that in 4th February we must clean our school yard from 12 midday. Of course, we were not happy.
The 4th of February we had the 6th lesson, sport, but teacher came in the second lesson and we were very happy but in vain. We went out and teacher gave us brooms. Before we shared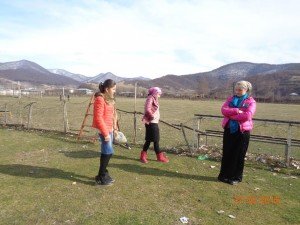 our brooms, boys ran away and went to so-called "mobile connect linking tower".
While sweeping, we spoke very much (this is our hobby). We cleaned the whole stadium. We  were very tired and we all were complaining so: oh, oh. Then the 9th grade students took the brooms and we went our class.
Near school there was standing a bus selling fruit. We bought oranges, bananas and more. When we went into our class, boys rushed into the rooms and took everything that we had bought.
Then we went  a second time to buy oranges and bananas. We bought oranges and we asked the boys to take us on "mobile connect linking tower". We asked the boys because we were afraid to go alone because there could be something in the woods.
After we climbed the mobile connect linking tower we were very tired. We stopped several times, all girl hanging on to boys arms. Two girls in our class rescued two boys with a stick.
When we went up one classmate was so tired she lay down and slept a little. Thereafter, we took pictures and we stopped there for an hour. When we came back one of our classmates fell to the ground a several times, she was coming down so fast, she wanted to jumped over something but she felt on the ground.
When we came back in our class everyone felt sleepy of fatigue. We went to the shop bought lots of food. We ate everything and went to our homes.
On this day school director took the boys bags to her cabinet because they ran away instead of having to do something.
It was very funny day for me and I relaxed with it.