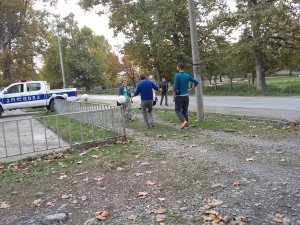 On Thursday I had a math lesson in Jokolo and there I saw Roddy Scott Foundation students. They were talking to each other that they were waiting for guests in RSF and they seemed very happy and all this reminded me the years when I was RSF student. How we were happy when we had guests in RSF and talk with them in English. When I saw them I remembered all this and missed my best years in RSF.
      When I came back from Jokolo, I and my friend went to our Georgian lesson and on the way near the office Ucha (our computer teacher) called us and said that Vlad was there and wanted to talk to us. Of course, we went to meet him and we were very happy to see him because Vlad is the person whom we were always looking forward to. We talked to Vlad about our plans and remembered the old time, when we were students of Roddy Scott foundation.
      I want to say thanks to Roddy Scott Foundation because today I am proud that RSF students have a lot of success in English exams. We will also have national exams next year and we have to pass an exam in English and I hope that Roddy Scott Foundation once again will be proud of us.
Madina Gaurgashvili
Roddy Scott foundation ex student