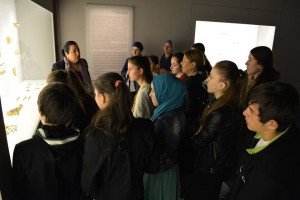 It's said, that good moments never leave us. I also agree with it. We should try to spend more and more good time and enjoy ourselves. But we don't always have this opportunity because it's really hard to get together all friends and go somewhere to enjoy ourselves.
Several days ago RSF gave us this opportunity of enjoyment together. We had an excursion to Tbilisi. First, we visited Georgian National Museum. There are defined the most important national treasure. We found it really interesting, hearing ancient histories of ancient items. The ancient jewelry was so fascinating. At first, I found it incredible that people in the past could make such kind of items by hand. Then I noticed, that items became more developed as time changed. It was so interesting and we all were really surprised.
  Then we went to the restaurant Nasimi and had dinner. They had really delicious food and all liked it.
After dinner, we visited the President's Administration. There we were met by counselor of the President, Sopo Shamanidi, with whom we talked about our problems. We looked round the palace and we got lots of information about every corner of it. The construction of the building was fascinating. Everything was very beautiful, but what the most I liked was the enormous flag which was created by David Datuna (Georgian-American artist). There we also were given little gifts.
At the end, we went to "Old Tbilisi" a historical part of the capital of Georgia. It was really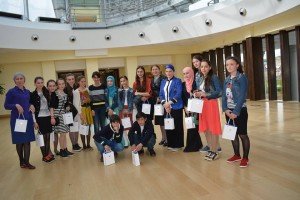 exciting and wonderful looking around this place. In spite of the windy weather, we enjoyed ourselves and had fun.
All in all, I'd say that we had a great time and it was an unforgettable day that will always be remembered.