On 16th April, Roddy Scott Foundation took us to Tbilisi. We spent a really good time together. At first we went to the National Museum. We heard very interesting things and also liked the guide who was very friendly. After this we went to a restaurant. The food was delicious and the service was good. Tbilisi is quite different from Pankisi Valley. When you live here and watch on TV to learn, you don't feel it, but when you go out of Pankisi you see that there are a lot of things you need to learn and to know. I am happy that the organization gave us a chance to visit these places.
Our teacher told us that to get to Narikala we will use cable way but the day was very windy. The cable way did not work and we climbed the hill to visit castle. We played together, sang songs and played different games on the way to Tbilisi and back
Before the Presidents Palace we visited the Church in Avlabari that is near the Palace, it was so beautiful, the garden full of different kinds of flowers and for the fist time I saw swans in the pool. We took a lot of pictures and it's an unforgettable day in my life.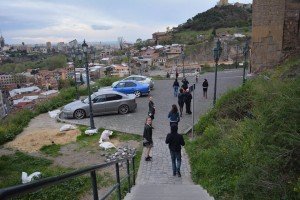 After this we went to the President Palace. There was a special entrance and the man checked the list of children. We entered it was very big the view from the Palace was awesome. Especially I liked the dome. It was made of glass and near the entrance there were very interesting pictures. We visited the hall were the President usually has meetings with officials. We sat at the tables and I dreamed the day when I also will be able to have meeting with the Georgian President at this table. I was bit frightened when I decided to go upstairs using the glass steps to see the dome. But I said you should do it and with others I went up and took some nice photos. It was great when I looked down through the glass floor and saw everything happening downstairs.
I also liked the flag in the Palace which was made from lens.
We also were on the Bridge of Peace, the weather was bad and we did not managed to see many things. Anyway I got home with full of impressions and promises from the teacher that if we work hard she will take us to another place too.