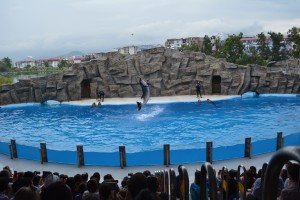 The first tiring day in Batumi has ended. On the second day we slept and then Lia our teacher woke us up. We had a shower and put on our clothes. Then we all had a light breakfast and started our sightseeing. It was a sunny day, so we went to the beach at about twelve o'clock. It was very good because we swam  a lot and had fun. We also took lots of photos. After swimming we went to the Dolphinarium to see dolphins. It was a really exiting show. When three men were playing with dolphins I wanted to play with them.
After seeing dolphins, we had dinner in the restaurant Sanapiro. Then we went back to the hotel. In the evening Mrs. Mari came and took her students to the concert and the left students had pizzas for supper. We took pizzas in our room for them and then went to bed.
I liked the second day compared with the first but the next days were better and better. so I lost the number of my best day.
These days spent in Batumi are unforgettable for me and I'd like to have  holidays like this again.