The Medical Service Centre (hospital) is to be built in Pankisi, in Duisi village. The building works have already started. The building company "Kvarelmsheni 52" is doing these works. We talked to the director of this company. David Kharatishvili
Mr. David. Who's financed building this medical Centre and when it is to be finished?
Well. Building The Urgent Medical Service Centre is financed by The Ministry of Labor, Health and Social Affairs and will be finished by the end of January, 2017.
Can you tell us what kind of services it will give people and what is the building budget?
Yes, of course. It's building budget is 650 000 GEL. It will be a medical Centre of various urgent services. There will be surgery and an emergency brigade, which will give the locals medical help at home, take them to the Centre or take them in the hospital in Akhmeta if there is any need of it. We've talked to the locals. They are very hopeful that this medical Service Centre is building.
"We needed to go Akhmeta's hospital to have urgent services of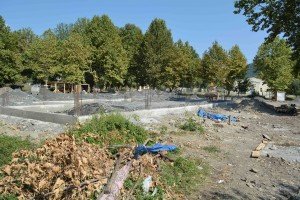 least half or an hour. Now we'll have these services at hand, which is very important," says Mariam Aldamovi from Duisi.  "The doctors will be invited to works from other regions of Georgia too. And one more important thing. The locals will be employed".