In Duisi a beauty salon has opened. It was so important for local people because when they have school parties, birthdays or other celebrations, they always went to Akhmeta to have make up, haircut or other services.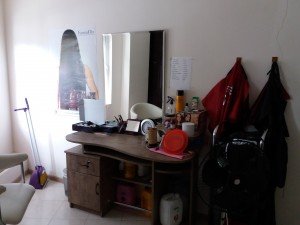 It's the first beauty salon in Pankisi Gorge and has become very popular. A lot of people are visiting this salon every day. They have a stylist from Akhmeta. We have visited the saloon and asked some questions we were interested
When did you start working and why did you decide to open the Beauty Salon?
We are working since June, and my business is quite successful. In Pankisi we had no salons. Some of our women who are busy had no time to look after their appearance even in special cases like weddings. Now they are glad and happy to have such services in our gorge.
What services do you offer the people.
We can offer nearly all services and the main thing is, this salon is for men, as well as for women.