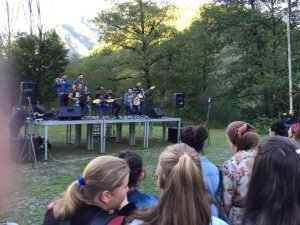 On the 27th of September in Khadory there was a concert. There was a band "Bani". I was in Khadory with some friends. We were very happy because it was my first meeting with them. In Khadory it was very cold. My friends and I were very cold. They sang 10 songs. Among them was the "Kist Ballade" which is very popular. When they were singing one of the Chinese men came up on stage and danced a Georgian dance. The surprised band watched the Chinese man.
After the song, one of the bands members praised the Chinese man and they thanked him for the dance.
After the concert people took photos with the band and the Chinese man. The concert finished at 7 pm and we went home. We really enjoyed it.