In Akhmeta district, village Tsinubani it was a long time that children didn't have a kindergarten and they used to go to a private house. There was only one group and the conditions were unbearable.
Because the number of children was very big and conditions were unbearable, the children didn't have enough space in the rooms and during the whole winter in the whole house there was only one wood-stove, the government decided to build a new kindergarten, where children will have all necessary conditions for them. The locals were very happy that the kindergarten was to be built.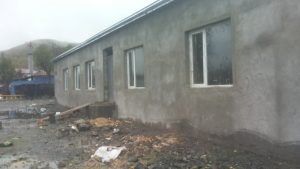 Now, the building works are going on. The construction is almost completed and it will open in November, so children will be able to sit in the new garden. They are longing to it.