Some journalist or TVs sometimes say or write the things which are not true to get the success. Mostly they don't think about people's reputations. They do it without asking and write about their personal life.
I remember, one year ago my friend had problems with a journalist. He's working in government of our city and the journalist wrote that he had beaten him. Fortunately, there was a video where people could see my friend talking on telephone during this quarrel.
Also there was one businessman, who had problems in his own life, but journalists wrote about it and when he read this article he had a heart attack.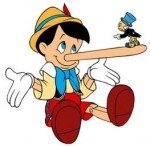 So, I think that journalists have to pay attention to the facts and not say the things only for their career success, as journalists should work for people and their interests.