Yesterday we students from Pankisi had an excursion in Gudaury.
Gudaury is the second mountainous skiing resort in Georgia. The way from Pankisi to Gudaury took five hours and it was very tiring but it was worth it. There were many visitors and the majority of them were foreigners.
We set out on the rope-way and went higher in the mountain and it was really exciting. We were impressed very much and the only thing that made us sad was we were not able to ski because we had to come back that day.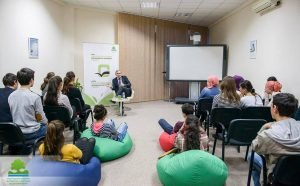 After looking around Gudaury, we had a meeting with the Environment-Protection Minister. The meeting was very fruitful. We asked him many questions and invited him to our gorge too. He promised to visit us in two or three weeks and to help in many projects we're interested in.