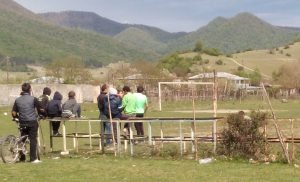 On the 21st of March in Pankisi, Gorge, there was a football competition. There were 4 teams from; Jokolo, Birkiani, Omalo and Duisi. At first Jokolo played Duisi and the score was 5:1. The second game was between Birkiani and Omalo won 1:0.
At last was the final. Duisi and Omalo played in the final which Duisi won.
I was very happy because I wanted the Duisi team to win. The winning team was presented. After hard work they won and everyone was happy.