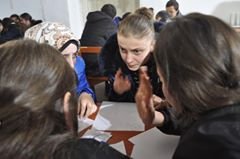 On May 1st, in the local club, there was a competition: What? Where? When? between schools from Pankisi. There were three groups from Duisi, three groups from Jokolo, two from Birkiani and one group from Dumasturi.
The questions were short and they needed to know the exact answer. There were 20 questions with the different points, from 1 to 5. The competition lasted on hour.
At the end, the winners were groups from Jokolo and Birkiani. They tied with the same points: 23-23.
We all enjoyed this competition, we got more information and also tested our knowledge.
Pankisi children like intellectual games like this.