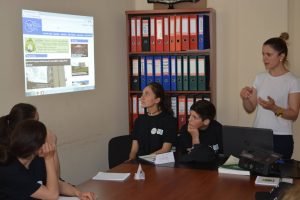 This week we had an interesting and productive meeting-seminar with journalists in Imereti.
Our journalistic class went to Kutaisi to meet with Dato Liklikadze and Qristine Qarchxadze in USAID office in Kutaisi.
The seminar was very interesting for us. They shared their experience and journalistic skills. They taught us how to become professional journalists, also spoke how media works, what ways the programs go through before they are socialized.
It was an interesting meeting.