I am from Pankisi Valley, study English at Roddy Scott Foundation Education Centre. I am 35 years old and decided to improve my knowledge, to enhance the level of my education, so it has been several months I attend English classes three days a week. This time RSF offered us to participate in different activities that aim to make us more independent and strong.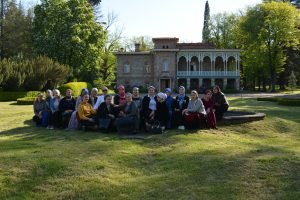 So, after several meetings with officials and training courses at RSF Education Centre, for the first time a group of 22 women from all over the valley visited the house-museum of the poet Chavchavadze in Tsinandali and the Raphiel Eristavi house-museum in Kistauri. It was very interesting to hear the history of both museums.
The day was very interesting and emotional. I spent my time with other women with different experience. Sometimes you are so busy making your day out of routine, so thanks to RSF staff for this impressive change. I think I gained lots of friends and managed to change my life for the better as well as my education level.
Editor's note: The excursion project is implemented with the financial support of Presidential Administration of Georgia.