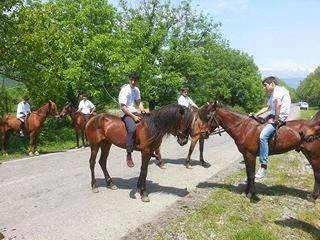 9th May is the day when the Soviet Union won the war against the Germany and the countries won the war and all this countries celebrate this day. Georgia also celebrates this day because there were 9000 people from Georgia and half of them died in this war.  So yesterday we celebrated this day in Pankisi. Some were singing, some were dancing. Mariam was dancing traditional Kist dance and I was leading the concert.
 There were also a lot of tourists and other guests and a traditional horse race that is held every year in the 9th of May. There were horses from Jokolo, Duisi, Omalo, Sakobiano, Alvani, villages from Akhmeta district. The horse from Omalo won.  The horse owner was awarded with a sheep.
We also took an interview from one of the delegates from Austria.
      Madina –hello Thierry we have some question with you. We are journalist from Roddy Scott foundation centre and can you answer
us?
Thierry – Yes, of course. I am ready.
      Mariam – What can you say about this day? Did you like it and was it interesting? 
Thierry – Yes, of course. I am very fascinated and all actions were very interesting… and you two also were very nice and very good…. The most interesting for me was the song which was sang by "Pankisi" group. I liked it very much; also the horse race was very interesting. I like this kind of actions….
       Madina – Oh, thanks for compliment… and I have one question also… How do you think is it necessary to celebrate this day and if you think yes, why?
Thierry – Yes of course it is necessary because it is the day when the world defeated the Fascism and found freedom, so I think we all have to celebrate and respect people who died in this war. Especially Pankisi should celebrate this day because I know that in this war there were a lot of people from Pankisi.
      Madina and Mariam – Thanks we are very glad that you agreed to answer us.
      Thierry – You are welcome. Nice to meet you.