On 12 March, we classmates gathered and went to Tbilisi for two days of training from school. At first I want to mention that during these two days, we have received a lot of information about what is always useful for us. Facilities were cool. We stayed in a hotel called Vera Palace. On the first day in Tbilisi we went to the entertainment center East Point. There we met Georgian children from other regions and after getting acquainted with each other we all went to a cinema to watch a film but it turned out that day was a cartoon show. The cartoon was very funny. It was called Zootopia. After the cartoon we went in "Nasim". "Nasim" it is a Turkish restaurant on Marjanishvili Street. I want to mention that the dishes were delicious.
The next morning, after breakfast we went in British Embassy where we met the British Ambassador who was a very pleasant woman. In the embassy they held training about Education. We took pictures and in afternoon and went into the chancellery.  In the chancellery they gave us much beneficial information about where we can continue our studies. They said that it is good for us to study in foreign countries.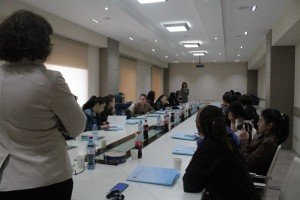 On the last day we came to the British Council where they also held us training with trainers. Our group won and they gave us some interesting books. They were very nice days that we spent in Tbilisi. We all were very happy because we got much information and spent a good time.