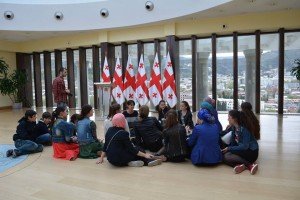 Three weeks ago, Roddy Scott Foundation took us on an excursion to Tbilisi and we had a great time. First we went to the museum, where we saw beautiful and old jewelleries. Also we got lots of useful information. Next we went to the restaurant and had dinner.
After having dinner we visited the President Residence. It was so exciting. Besides, we were given gifts. Than we went to visit Narikala, we took lots of photos, but for me the most exciting was Narikala Garden. There were lots of colorful flowers. When we were getting back we were playing and laughing.
Finally we arrived  at home but we will  never forget this day.