On 18th May Roddy Scott Foundation once more gave us the chance to see wonderful and interesting places and things. I felt very excited when I was told that we will see Sataplia Cave. My cousin has visited it and told me that everything in that cave was incredible. So, I had an aim to see it before and this project gave me this opportunity.
Journey started with its entry. On the gate were dinosaurs carved and it already showed what kind of things were waiting for us inside. During this journey we saw so many things that I was in emotions. Inside the cave there were many stalactites and stalagmites. They were so amazing. We were told that they needed a long time to make and they were so big. I couldn`t believe if they were real until I touched them myself.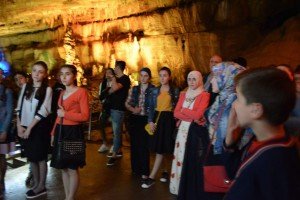 We also saw dinosaurs` footprints. One was herbivorous and others, which were many, were carnivours.
In the last hall was a stone, which had form of human`s heart. Water dropped on it and it made me feel that it was beating.
After we went out from there we saw the Glass Bridge which was about fifty metres higher than us. We all of course wanted not to miss this wonder and started going up. O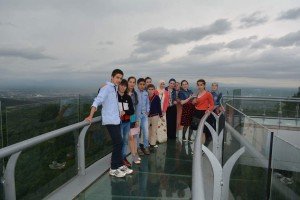 n ourway we saw dinosaurs` layouts and one of them was from a skeleton, which was the biggest. Nature itself was beautiful and thrilling. We were so impressed by the sights of nature that we didn`t notice, how fast we went up the bridge. The view was fascinating, marvelous, impressive and different from those I have ever seen. Through the glass I could see trees under my feet. It was fantastic.
We came back with lot`s of new information and unforgettable impressions.