Students of RSF went on holiday in Batumi and I was one of them. We spent 4 days there. Every day was better than the previous one, interesting, funny and entertaining. But for me the first day was the most important, at the same time different.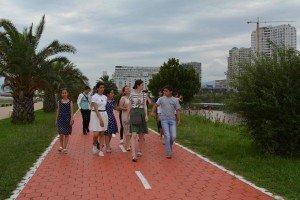 Firstly, everybody was tired by travelling and everybody was hungry. But we could not enter the hotel, because it was too early and we decided to find a cafe or a restaurant. After a long search we found "Sashaurme". We had meal there. And we visited "Batumis Bulvari" which is near the Black Sea. It is the most popular place in Batumi. We saw some nice buildings like the Ferris wheel, Alphabet Tower, Sheraton Palace, Ali and Nino, Dancing Fountain and others. We also collected some nice stones from the beach.
After all we arrived to the hotel and we took our rooms. We relaxed for hours, but boys went downstairs to swim in the pool.
I want to thank the RSF and President Administration for presenting these beautiful days. Thanks for giving us the chance not only to relax, but also to get acquainted with Batumi culture.