On Sunday, students from Pankisi where in Tbilisi to meet with Georgian Public TV's staff. They took us to look around the TV station. Everything was very interesting. They in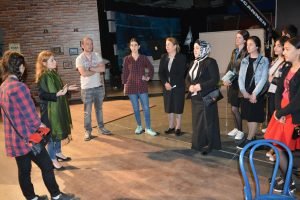 troduced us to their work. We have already visited other TVs (Imedi and Rustavi 2), but for me this one was the most comfortable place.
As a future journalist I would like to work there. The staff in 1TV was very friendly and lovely people.
We met with a news journalist. She was great. We took a lot off photos and had fun.