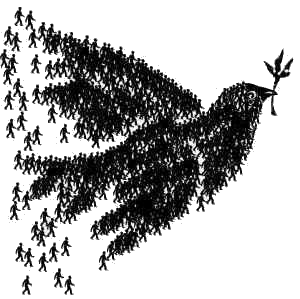 Many things in universe are important for living. For example: air, food, education, humanity and so on. They are necessary to have a normal life. But in my opinion, they have no meaning without peace. Peace, which is achieved with love, respect and good relationship. I can`t understand one thing. Are they so hardly achieved, that very few countries can keep peace? The first thing against quietness and stillness is war, destroyer of everyone and everything. The biggest harm and the hardest thing.
The world has been passing many wars till this time. Many people have been torturing, oppressing, transferring pain by losing their parents, their children, their properties, their families, their aims, their achievements. That's the biggest ache, that human can feel.
I want everyone to be in peace and calmness. At that time life will be more interesting and desired. I've seen people on TV and in the internet who don't want to live because the war is in their countries.
No one wants all the time to be in fear and it's our obligation to help the world for getting rid of wars with our education, with our knowledge, brain and experiences. We have not to waste them and use reason to go forward and feel progress.