I think to be involved in many activities helps me to learn many things about my country and find myself. I participate in these kinds of excursions a lot and usually I am happy and become more confident. Fortunately RSF is giving us such kind of opportunities to.
Several days ago the places we visited were President Palace, national museum and old Tbilisi. The excursion was great and very interesting. We were about 18 children and we enjoyed it, partly because we were together and with our teachers and partly because it was my first time in President Palace and I was very impressed.
At first we went to the National Museum. All history of numismatic things of Georgia in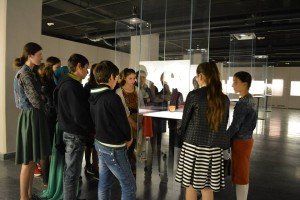 different times was represented here. Beside these coins were a lot of crowns and jewels and other things made thousands of years ago. The guide sometimes asked us questions and we were happy to answer to these questions.
Of course, we knew about some of the things from history books but were surprising to see them in reality. How could people create such a beautiful pieces thousands of years ago?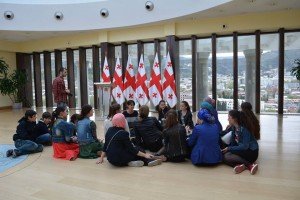 Then it was The President`s palace we visited. We enjoyed it very much. Later we met the representative of President's administration, sat on the floor and talked to her like to our friend. She asked that what our region need most, and what should be done for us. We were happy. Later our teacher told us that it is Presidents administration and Sopio Shamanidi who gave us the opportunity to go to excursions to many part of Georgia and have fun. Thanks to them.
I think Tbilisi is the best city in the world. The day was windy, but anyway we managed to
see old Tbilisi, went to Narikala castle and walked down we saw the bridge and took a lot of photos.
Later we were invited to the restaurant. It was my first time. We were hungry and had a rest, enjoyed the food and came back late night. I love you all for this good present, one nice day, which I will never forget in my life.