At school we have a project "Eco vision". In the frame of this project we had training about nature, our problems, how to write projects and more.
Our mission was to make Eco groups in Pankisi schools.
At first the training was in Akhmeta, and then they took us to Tbilisi for two days.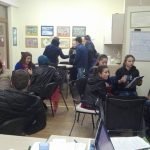 When we first arrived in Tbilisi, we went to their office, where the training was held. At breaks we played lots of different games, so at the end of the day we weren't tired.
Then we were taken to a hotel where we had a rest, ate food and then we had an excursion in Tbilisi.
At the next day, the training started at 10 o'clock and finished at 3 o'clock, with breaks and lunch.
After training's we came back home. We liked the excursion, because in these training's we received a lot of information, which is very useful for us.
We didn't want it to end.