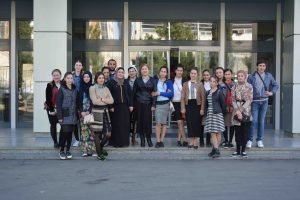 Last month we were in Tbilisi to look round one of the most prestigious TV stations, Imedi.
The day was very interesting. TV was very nice and everything was high quality. We met journalists who shared their experience in journalism, but a little bit disappointed because we could not meet really famous people whom we wanted to get introduced to.
At the end of the day we went to a restaurant and we had dinner.
So, I think everything was very good and we all were satisfied.
Thank you RSF and Imedi Corporation.