The riders from Akmeta successfully participated in a horse-race that started from the village Kvemo Alvani, Akhmeta Municipality and finished in Mtskheta the adjacent territory of Jvari Monastery. The race lasted for four days.
People from different regions of Georgia and North Caucasia arrived in Akhmeta to take part in the derby.
The horse race was held within the framework of the project of mountain horse trekking club "Zedazeni". The aim of the race was to establish healthy life style among young people and to honor the souls of heroically dead Georgians.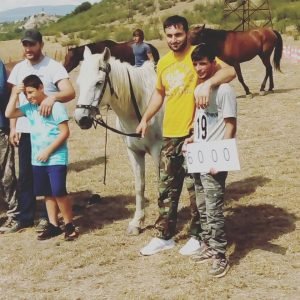 The winners are residents of Akhmeta district and were awarded a considerable sum of money:
Ist place – Ruslan Alkhanashvili (village Omalo) 6000 gel.
II – place Achiko Kadze (Kvemo Alvani) 2000 gel.
III – place Soso Pareulidze (Omalo) 1000 gel.
IV – place Pata Gumashvili (Jokolo) 500 gel.
V – place Soso Babulaidze (Kvemo Alvani) 500 gel.