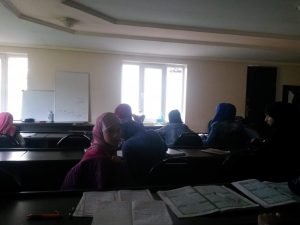 In Tsinubani, it is a long time since Arabic classes had stopped working because there wasn't a teacher of Arabic and the old one had resigned.
But children wanted to continue these lessons and at the request of the children, People looked for a new teacher. Now these lessons have started and children are very happy.
I also go to Arabic lessons and I can say that our new teacher is very good and it's a big happiness for us to have the chance to learn Koran by heart.
I wanted to say thanks to all people who took part in it. We'll have lessons in Arabic and we'll be happy to speak one more language.