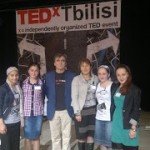 20th April. It was a day when we had an opportunity to meet other people, know if people like our online newspaper or not. This meeting was in Tbilisi University where there were local students and foreigners.
There was talk about different issues, about different problems in the world, about our online newspaper, also equality between women and men. After some talks there was a break time for lunch, where we could communicate with others and for us it was so nice a day. Also we met some popular people in this meeting. For example, Dato Gogichaishvili. We took some photographs with him also we talked with the host of the show, Camrin Christensen. She is also a director of development evaluation. She promised us that she will come in Pankisi with her mother.   After this meeting we were so tired and we went at home in Pankisi.
Thanks to everyone who gave us an opportunity to go to this meeting.