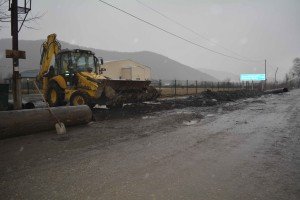 Today on 2th April in Pankisi Gorge came Tamaz Abdulashvili from the Telavi road reappearing office to repair roads. We interviewed this person, asked about what they were going to do?
What's your mission plans about this George at that moment?
The village attorney asked us to repair channels because after the rain the judo club was flooded and we didn't refused.
Okay, and when you will finish this repairing works?
We suppose that we will finish tomorrow.
And the last one. What's your real obligation as to your work?
Our obligation is to repair roads, to lay with asphalt in Akhmeta, Birkiani and Matani.
Thank you very much Sir Tamaz for your attention.