I am very happy. For the first time I have visited Tsinandali museum. When I walked  in the garden I felt myself like in the tale. The huge garden was very impressive. Before the excursion I read and knew a lot, but when I saw the place  history ran in front of my eyes.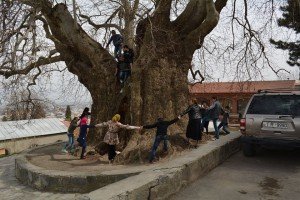 Alexander Chavchavadze inherited this village from his father Garsevan. He built a decorative garden in 1835. Chavchavadze, familiar with European ways, built Georgia's oldest and largest winery and produced wine according to traditions. Wine – Tsinandali is still popular.In a beautiful and huge garden that we call the love garden, I saw the tree where Chavchavadze's daughter Nino managed to hide herself. It was so beautiful and old. I climbed the tree and imagined myself being the daughter of the famous Chavchavdze.
We met a very friendly guide who told us all in details of life history of the Chavchavadze family. We were happy to listen to her and it seemed like we were travelling in a very affluent society of the 17th Century. In short, it was very important and interesting day for us and I would like to express our gratitude to Administration of President for such a wonderful day.