On 18th May RSF again gave students an unusual day. This time, the trip went beyond the boundaries of Tbilisi and our destination was Kutaisi. We visited Sataplia Cave and Gelati. Before these places, we also went to Dzevri Public School and congratulated the 12th grade students on their school graduation.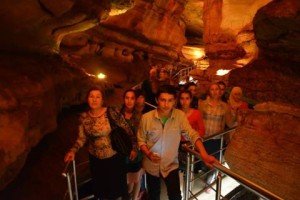 The excursion was unforgettable, funny and at the same time very interesting. I really liked everything. But most of all I was surprised by seeing Sataplia Karsts Cave. It was so nice that I am still under impressions. During the inspection tour our guide told us the history of the cave, so it has increased our interest about the cave.
As our guide said, it was first discovered by Petre Chabukiani. It's stalactites and stalagmites forest. In the cave there is used special lighting which seems really nice, so the cave becomes much more impressive.
I've never been there before, but I had seen pictures of this place and was always interested in its beauty. While watching the pictures, I thought that this cave was created artificially because it was so beautiful. But a few days ago, I discovered that I had a misconception and it is absolutely possible for such an unusual and impressive sites to be natural.
In the center of the cave there is a big stalagmite which has heart shape and it's called a Stone Heart. On the Stone Heart the water leaks from the top. So, as the guide said, we can assume that this heart is still "alive".
When I went in the cave I felt a little chilly. Maybe because outside it was warm. Then we were told that the permanent temperature in the cave is approximately 14 degrees Celsius and the air inside the cave is curing.
We saw dinosaur's footprints. They were surprisingly large. We also saw figures of dinosaurs. They seemed real. I had heard that somewhere there were footprints of dinosaurs, but I have never had opportunity to see it before. So, I enjoyed it very much.
The day was unique. We were impressed with the landscape of Sataplia. This trip was such amazing and fascinating, that it'll always be remembered.