I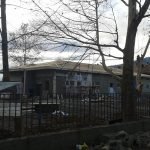 n our gorge there are many problems, but the biggest are jobs. There aren't any kind of jobs for people. You can hardly find a job. Sometimes you can find the job of shop assistant, in the bakery and sometimes workers jobs.
Also there aren't entertaining places for young people. And it is one reason of the young people going abroad. They are trying to find jobs and earn money to support their families.
About 98% of young people in our gorge are unemployed. The biggest problem they say is unemployment and not having entertainment places. They have lately opened a gym for boys. The only thing that they have to enjoy.
Are there any places for girls in Pankisi?  I thought about it for a long time. No, there are no places for entertainment. And no places for little children. These problems are very important and need to be solved.