I am Mariam Margoshvili, 19 years old, from Pankisi Gorge. I am a first year student of Ilia State University at the Psychology faculty. In the US I was representing the McLain Association for Children, which is working with disabled children and back of this I talked about the Roddy Scott Foundation, which is also financing by McLain Association for Children. In RSF I was taking courses of English for 4 years and with its merit I could talk during the trip without interpreting from interpreters.
The Roddy Scott Foundation recommended me to the U.S. Embassy and the embassy gave me chance to go to my dream country.
For a long time, I had a dream to go to America, because every day I heard many things about this country and people's life style, which is very different from my country. It was a surprise for me when I was told that I had chance to go in the US and be acquainted with everything in which I was interested. I did not believe all this. Our trip started in Washington DC, the capital of the USA. We spent there 4 days, where we had meetings with different organizations and also had a meeting with the State Department. On the first day, we had an excursion in DC. We saw the White House, went to the Lincoln Memorial, also to the ??? Cathedral. The excursion was very interesting, where we saw many things that we had seen only on TV. The next day IIE team program officially welcomed us to the United States discussed the program objectives. In DC, we had many meetings, but for me the most remembering meetings were with Running Star's organization, which is working with young women and is motivating them to political involvements in their early age. Also, we had a meeting in the State Department where we talked about the programs that are done by the US in Georgia. The most important thing for me was that in the State Department we met the people who were informed about Roddy Scott foundation and also, they had visited here last year. The next state was New York, the place which I liked the most, because it was very different from my country with its high buildings, busy life style and many places to have a good time. It's called the "city that never sleeps", because of it, I think that it was the closest place for me, because all my life I have been very active and always liked busy cities and busy people. In New York, the most memorable visit for me was in the Police Athletic League. It is after school preparing center, where we met school age children and we looked around the building. After New York, we went to Oklahoma State. The most important thing about this state is that there was warmer than in other states. In Oklahoma State, we met aborigine Indian people and visited their school " the Sequoyah" School. This was a very good school with all facilities the students need. We had some meetings in the shelters, which are working very well and I think that they do a very important job because there are many homeless people and to survive cold winters they need some places. These shelters offer all of the benefits, many services and they look after them very well. In this state, we also visited the local family of Randolphs. They shared with us a meal and we had an experience of American life in casual settings. The most unusual state for me was New Mexico. Santa Fe was the city in New Mexico where all the buildings were almost in one color and the height was almost the same. Most of the population is Mexican and Indian people and this city was the mixture of two cultures. In Santa Fe, we were in the prison, were all the prisoners were under the age of 18. They showed us the prison and talked of the services that they offer the prisoners. The last state was Michigan and the city Detroit. We were in a Muslim center and in a mosque. There are many Muslim people living here and because of this in this city there was 6 mosques, many Muslim shops and restaurants. It was a surprise for me. The last meeting we had in Detroit was with an organization that was run by 2 ex-prisoners. One of them had spent 15 and the second 19 years in prison. After they came out of the prison they made an organization called "Luck", a rehabilitation center for ex-prisoners to avoid getting them back in prison. Besides this we had many more meetings and I only wrote about the meetings that I remember the most. All the meetings were very interesting and helpful for me for and my future plans.
Thanks to U.S. Embassy, Roddy Scott Foundation and McLain Association for Children for this chance.1 Meeting in Washington D.C with Institute of International Education.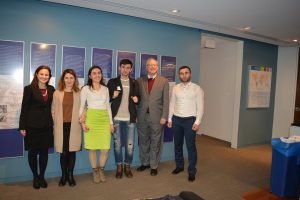 1 Meeting in Washington D.C with the Institute of International Education. It was the first day and we just looked through our program.
2. Meeting with the Director of Islamic Center, introducing their buildings, history, their works and their youth programs.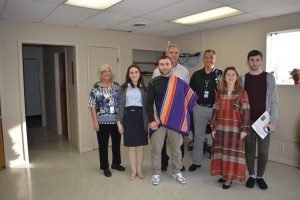 3. Meeting with native Americans, listening to histories about their tribes, their social being and their programs for young people.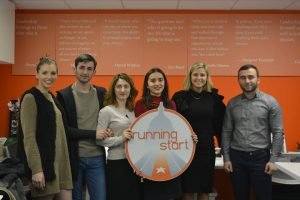 4 .A productive meeting with Running Start. Getting acquainted with their young women's program to involve them in politics.
5.Meeting with the Sequoya High School Principal, a school for native
Americans.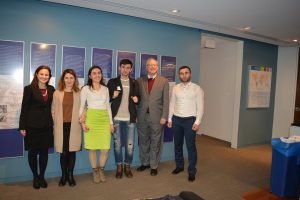 6. Meeting with Native Americans Health Care Center's Principal, introducing what kind of programs they offer for the youth, like sport activities to live a healthy life.
7.Meeting in Tulsa, Oklahoma about illegals from different countries, problems with them and ways to help them.
8.Meeting with specialists in the legal system of Detroit, Michigan. Talking about U.S Attorney, its components and sharing experience of people who used to work there.
9. Meeting in Detroit with the member of American Arab Muslims diaspora talking about themselves, their jobs, experiences and programs for the youth.
10. Me representing the Mclain Association for Children.