-congratulations you have passed 3d level and you are going to America…..
I was shocked. I couldn't imagine myself in the USA, but one day it came true.
In my imagination America was a place with big buildings, high towers and rude people. It was a place with high towers and big buildings but with lovely and smiley faces.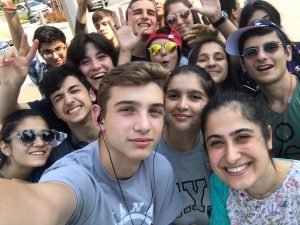 Americans were very interested in our traditions, culture, food and much more. We were very happy to tell them about these things. The first 4 days we were in camp. These were the best days, with new challenges like a canoeing, climbing,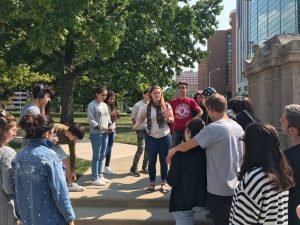 walking and of course with workshops, sessions and trainings. These amazing 4 days in my life were with 11 students from Azerbaijan. They were cool kids. I loved them. Today we are good friends and we are a big team with 22 people. After camp, we moved in Indiana state, Bloomington. Here we had lots of things to do in Indiana state university. Every day 5-6 sessions about business, entrepreneurship, social business and business management. These two weeks were the busiest but with lots of experiences, with the best host family whom I miss very much.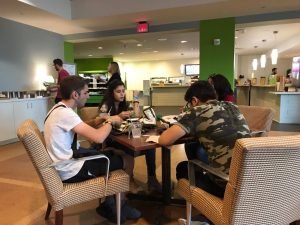 After came time to relax in Indianapolis, two days walking in interesting museums. We had fun. Then we went to Washington, our last destination. Theodore Roosevelt High School new friends and new challenges again, new adventure again. I have made new friends from everywhere Bloomington, Indianapolis, Washington and from Azerbaijan of course.
Madina Alkhanashvili