A new road to Tusheti is planned to be built. It will go through Pankisi Gorge, known locally as Khadori. It will be finished by 2020.
"It will give Pankisi Gorge a new life". Said Giorgi Kvirikashvili, the Prime Minister of Georgia. Pankisi people hope
that this new road will increase the number of tourists visiting the gorge, which will raise the income of the local guest houses and entrepreneurs.
Some people are against it. They think that building this road will impact the gorge landscape.
They say in addition, it will be a source of pollution into the environment.
Kvemo Alvani people are also against the new road that will go through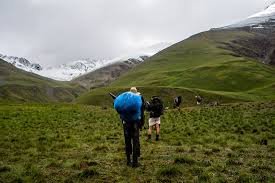 Pankisi. They demand rehabilitation of the existing road.
Nowadays, the only road to Tusheti goes from Telavi municipality through the village of Pshaveli. It is 72km long and 4 hours journey by lorry. It is closed from the end of October to May because of bad weather.