Yesterday, on June 24th in Duisi, Pankisi, a protest was held by Temirlan Machalikashvili's family. The Kists assembled sharing the grief of the family and Zaza Saralidze arrived from Tbilisi to support Malkhaz Machalikashvili the father of Temirlan. Kists expressed solidarity towards Zaza Saralidze too.
Recently, Zaza Saralidze, whose son was killed during the bloody conflict of the students of School N-51 and Malkhaz Machalikashvili, stood together at the protest in front of the Parliament Building in Tbilisi.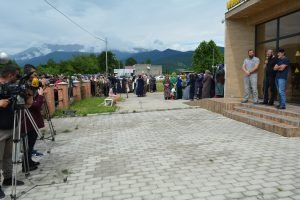 At the protest in Pankisi, Temirlan's family and the residents of Pankisi demanded to recognize their son's innocence, to remove the label of terrorist from him, because in Pankisi there are not terrorists. Here, mothers grow courageous men full of love of their country. Also they required an objective investigation and to punish those who organized the special operation and killed Temirlan.
The case of Temirlan Machalikashvili is not investigated till the present day. His father is eager seeking for justice. Consequently he is being threated by some forces who are against disclosing the truth.
During the protest in Tbilisi the Prime Minister of Georgia, Giorgi Kvirikashvili met Malkhaz Machalikashvili and Zaza Saralidze whom the minister gave promise of gaining justice, but after that he resigned.
The residents of Pankisi are not going to give up. The protest will prolong until they can find justice.