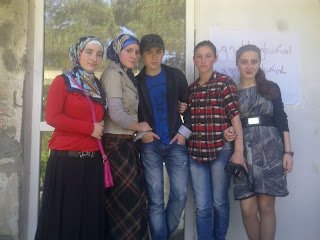 Kists (Veinax) are a people of Caucasus. They have secular political, cultural and historical relationship with Georgians. Kists settled in Pankisi in 19th century. They didn't find it difficult to adapt with Georgians, because both of them were next of kin and similarities between them were bigger than differences. Obviously, the main factor of adaptation was humanism and well-wisher dependence of Georgians.
Despite of living together a long, the majority of Georgians don't know about Kists' history, culture, aspirations and future perspectives. But Georgian literature is rich with themes of Kists. Georgian writers were fascinated with Kists heroic past.
Since olden years Kists have been hospitable. They are very respectful people and also demand consideration from others. Kists like charity. They always help disabled and poor people as far as possible.
Pankisi (where Kists live) is a nice place to see, with its nature that is incomparable. It is surrounded with remarkable mountains. And the beauty of the valley is Alazani River, which is the longest river in Georgia.