Today Pankisi people has celebrated the biggest religious holiday Eid al-Fitr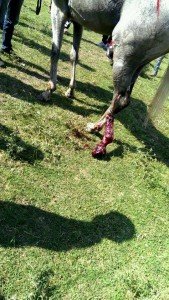 A horseracing competition finished tragically for Chanchkeri a very famous horse in
Pankisi. While running on a track it broke its leg and fell down. Fans are very sorry for Chanchkeri as they say it might be impossible for him to recover.
Chanchkeri the grey horse had remained unchallenged for a long time.