Yesterday we were in Tbilisi. Georgian children from Tbilisi wrote a project for 10th and 11th grade children. It was a project in which we had to make friends with Georgian children and we had to enjoy together and see some places too. The project was financed by the President Reserve Fund.
It was one of the best days in my life. In one day, I made 6 friends. It was great. They were very attentive, communicative, very good, nice and friendly children. Yesterday we were in "East Point". It's a shopping and entertainment center. We played bowling and one of our students Malika won the best prize. After bowling we went to Pizza House and we ate very delicious pizzas.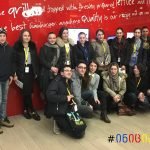 After that we went in the cinema and we watched a new film "Magic animals and how to find these animals". Our third visit was to the National Museum. The first floor was wonderful. There we saw archeological things, jewelries and so on. The second floor was closed and we didn't see it, but I hope that I'll see it another time. After the National Museum, we went in Wendy's restaurant, and we ate very delicious fries, hamburgers and so on and we played games. It was fantastic. The best were our new friends Ana, Luka, Nino, Rati, Shako and Nini.
I can say that it was the best excursion in Tbilisi and I hope that in future we will visit these places again. I can't express my impressions.  It was great and now they want to visit us. I think that it's a good chance to continue our friendship. We will have many meetings in future. In my opinion these visits are very good and they help us to be more friendly, as friendship is very important in this life.