The last lesson, we had meeting with the former RSF students Mariam Margishvili and Beka Umarashvili, about their visit in America. Our director Lia Margoshvili gave them a recommendation and four people went to the USA from Pankisi: Mariam Margoshvili, Beka Umarashvili from RSF, Luisa Mutoshvili and Shengeli Tokhosashvili from KRDF. They went to America for a month. They spent a very good time there. They went to five states and had very interesting meetings.
"If you are active and involved in various activities, you will achieve your aims''. This is the main advice they gave us.
They have spent twenty-one days and visited 5 states, met many interesting and amazing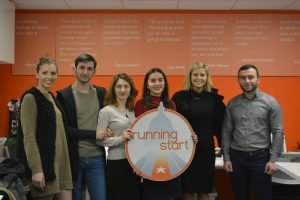 people and returned to Georgia with great and useful experience. They shared their impressions with us in English. Their English was fluent. It was cool!!!
We are happy that our students had this chance and I hope I will visit America one day.